ALFA CLASSIC STIRRUPS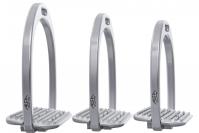 The Choice of your stirrups:
Alfa Jump offers you the possibility to modulate your stirrups by choosing not only the size of your frame but also the soleplate that suits you.
The soleplates are available with the option of stainless steel spikes to increase the strength of the notch.

Size L = Adult
Distance between branches: 13 cm
Sizes > 38

Size M = Medium
Distance between branches 12 cm
35 < Sizes < 38
Size S = Junior
Distance between arms 11 cm
Sizes < 35
FLAT SOLEPLATE
A wide rectangular shape with no slope, the flat floor facilitates the rider's balance while suspended.
INCLINED SOLEPLATE
The sloping floor ensures a natural descent of the leg and therefore a good position for the rider.
SMILED SOLEPLATE
A floor similar to the sloping floor,
It has a rounding that frees the toe.