ALFA JUMP STIRRUPS
ELEGANT - AUTHENTIC - EFFICIENT
MODULARITY FOR A BETTER BALANCE
Several possible choices of floorboards, adapted to the riding style and
discipline of each horseman.
VERY GOOD GRIP
Strong notching cut into the mass which allows an excellent grip of the foot.
Optional stainless steel spikes.
SLEEK DESIGN SUITABLE FOR ALL DISCIPLINES
Obstacle, Dressage, Eventing, Endurance, Leisure, TREC...
QUALITY OF THE FINISH
Lightweight, wear and corrosion resistant.
Aluminium with anodic oxidation protection, reinforced on the soleplate for better
wear resistance. Several choices of finishes available.



ALFA SAFETY STIRRUP
Flexible polymer branch that opens in all directions or ejects completely
to release the foot whatever the type of fall.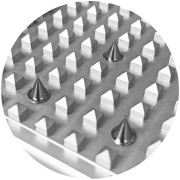 Alfa Jump offers two types of soleplates, flat or inclined (the smiled soleplate is itself inclined), with or without spikes.
The choice of the type of soleplate depends above all on the way the horseman rides.
Some horsemen prefer a flat soleplate, others a inclined soleplate.
In all cases, we have favoured one slope per soleplate in order to keep a sufficient width to guarantee the horseman's comfort and stability.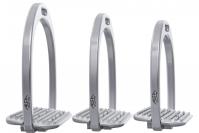 The choice of your stirrups:

Alfa Jump offers you the possibility to modulate your stirrups by choosing not only the size of your frame but also the soleplate that suits you.
The soleplates are available with the option of stainless steel spikes to increase the strength of the notch.
FLAT SOLEPLATE
A wide rectangular shape with no slope, the flat soleplate facilitates the horseman's balance while suspended.
INCLINED SOLEPLATE
The inclined floor ensures a natural descent of the leg and therefore a good position for the horseman.
SMILED SOLEPLATE
A soleplate similar to the inclined soleplate,
It has a rounding that frees the toe.
ALFA TECHNOLOGY
Stirrups are an essential and indispensable accessory in equestrian sports.
This is why we have designed, conceived and manufactured the Alfa-Jump stirrups in our ISO 9001 certified workshops in France.
We have developed our range in collaboration with professional horsemen, combining our know-how, our technique and our passion for riding.
Our stirrups are light and comfortable, with the possibility to choose the soleplate. This allows for a very good adaptation to all equestrian sports.
Rounded stirrup leathers to prevent breakage.
Rounded inner temples to avoid wear and tear of the boot due to friction.
Rounded shape to protect the saddle when the stirrups are pulled up.
Adaptable for all our stirrups, they will perfectly meet your requirements whatever your equestrian discipline.
Alfa Classic Stirrup
Unconventional design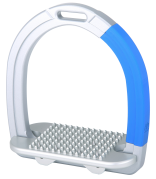 Alfa Safety Stirrup
Safety guaranteed
Alfa Ball Stirrup
Comfort assured
THE ALFA JUMP ADVENTURE
In just a few years, the Alfa Jump stirrups have succeeded in embodying a spirit of quality and elegance that is universally recognised. From the atypical circumstances of their creation to their use by competition horsemen, they have indeed had an extraordinary destiny.
The DELMERLE company, an industrial manufacturer in mechanics, is a family company founded in 1972. The Alfa-Jump stirrup range was born out of the collaboration between top-level equestrian sports and the high-tech industry.
Our company has put into this product all its industrial know-how and its experience acquired in the service of major companies in the aeronautical, automotive, railway and defence sectors.
We have favoured a modern but traditional design which does not go out of fashion and makes our stirrups timeless and elegant.
The stirrups are designed to accompany you in all equestrian disciplines, whether for show jumping, dressage, eventing or TREC ....
The development of the stirrups was done in collaboration with internationally renowned professional horsemen. The experience of these equestrian figures has enabled us to adapt our stirrups to each discipline.
We have selected the most suitable materials and chosen the best possible finish. Thanks to this very precise choice, we offer a high quality product. We are committed to offering high quality technical products at the right price.
Thank you to all those who participate in the development of ALFA-JUMP:
To our ambassadors for representing our brand,
To the horsemen who participate in the improvement of our products.
Each element of the Alfa Jump range is a unique piece that can be presented in different configurations according to the horsemen's expectations. Our stirrups are finely crafted with a contemporary yet classic design and are suitable for all equestrian sports including leisure riding.
Their excellence has attracted many top horsemen such as Alexandra Ledermann,
Philippe Rozier, Eugénie Angot, Philippe Lejeune, Albert Voorn and many others.
Our French know-how has also attracted many horsemen from all over the world.